Bella Floral Boutique is committed to offering only the finest floral arrangements and gifts, backed by service that is friendly and prompt. Because all of our customers are important, our professional staff is dedicated to making your experience a pleasant one. We always go the extra mile to make your floral gift perfect. We have a host of ideas about how to make any gift occasion something special for both you and the recipient. We also offer a wedding bouquet and wedding function flowers service guaranteed to please.
Let Bella Floral Boutique be your first choice for flowers!
Meet our team!
Carmen Wells

I'm the Ringleader of this Circus and am so proud of what Bella Floral Boutique has become! We bring welcoming and warm customer service alongside Fresh beautiful Floral Designs!

My style is Modern and Bright! I love creating happiness for people to enjoy.

A quirky fact about me is That I have a secret obsession with shoes, Motorcycles and Custom Cars!

Gerbera's are my favourite flowers to work with! They are truly a happy vibrant flower.

Elton John would be my choice of celebrity to design for! I love that I could create something flamboyant and creative to match his style!

Ok It's Mother's Day... I'm working back late... I have the golden Mike on Karaoke.... I will be belting out Tunes too…. Tina Turner's version of Proud Mary!!! And yes, you may have seen this on our social media before.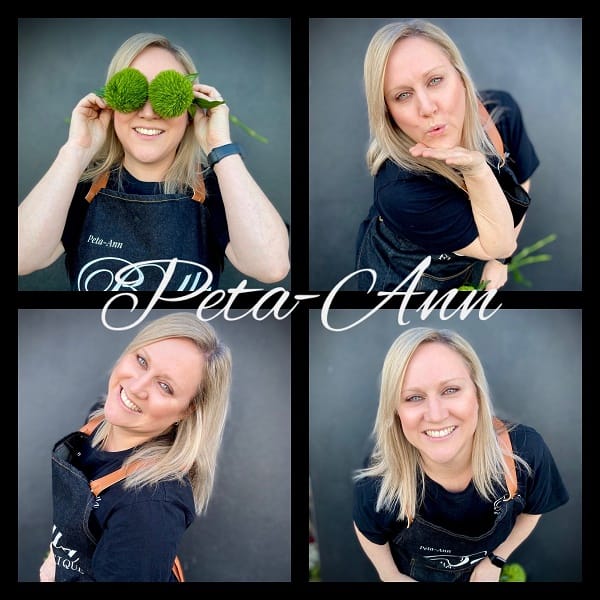 Peta-Ann Visocchi

I'm Peta-Ann and I am a senior florist at Bella floral boutique and have 27 years' experience.

My style is very structured and I'm teaching myself to become more whimsical.

I love to sing even though I can't, but I don t care, and I laugh at myself all the time.

Favourite flower is Lilly of the valley cause for such a small flower it has a beautiful perfume.

I would have loved the opportunity to make Audrey Hepburn a posy of all Lilly of the valley because it's elegant and classy just as she was.

Ok, so it's Mother's Day, I'm working back late… I have the Golden Mic…

I love to sing Proud Mary by Tina Turner and Halo by Beyoncé!
Timika Townely

Hi there, I'm Timika! And besides being a Florist I'm the resident Bella Wild Child / Hippie / Crazy.

My style is eclectic and vast. I appreciate modern simplicity but my heart beats for the inner boho and a throw together of wispy dried florals and wildflowers.

A quirky fact about me is… I'm ridiculously scared of Octopus I won't touch a certain spider orchid because it looks like a baby octopus eeek!

Picking a favourite flower is way too hard! I adore the scent of Freesia's, the texture of natives and the romance of reflexed roses.

If I could design for a famous person, I would like to design for Stevie Nicks! I'd love create an earthy collection of gatherings that represents her inner Gypsy.

Ok, it's Mother's Day, I'm working back late, I have the Golden Mic… I'm drifting along to anything Fleetwood Mac / Stevie Nicks … probably Gypsy or Storms.
Tania

Hi my name is Tania & I am Bella's delivery driver.

My most favourite part of my role is Meeting so many wonderful people.

My quirky fact about me is I love Karaoke, but I am a terrible singer.

My most favourite flowers are Peonies, they are soft & delicate & Natives as they are so unique.

My favourite Celebrity to deliver too would be, Will Ferrell, he is hilarious I love a great sense of humour.

Ok, it's Mother's Day, I'm delivering late, Belting out a tune in my car… it's Tribute!
Renea

Hi there, my name is Renea aka pocket rocket, my role at Bella is as a senior floral designer.

My preferred style of arranging would have to be the simpler and the more sophisticated look.

A quirky fact about me is that I'm petrified of thunderstorms!

My favourite flowers have changed over my many years working as a florist, currently I love to work with natives and orchids as they both come in an amazing variety of shapes and colours, making them fun to work with.

If I had the pleasure of designing an amazing over the top display for a celeb it would most definitely have to be Mr Sir Elton John, as I'm sure he would appreciate the beauty. If I could make something for an idol from the past, I'd love to design for Princess Diana.

Ok, so it's Mother's Day, I'm working back late, I have the Golden Mic. I'm singing along too "free falling" by Tom Petty.
Renee

Hey, my name is Renée though as a Bella I am Ralph. Being the second Renee on the scene and as a floristry junior (by skill, not age) my utmost respect to the outrageously talented original led me to happily take on a new entity. As mentioned, I am the junior in the team with little experience after my TAFE studies so my role is still very much about absorbing as much as I can from all the talented Bel gal's floristry wise, but I think I'm also seen as a bit of an organiser and 'tech' girl, bringing prior work life admin skills with me.

I don't think I've quite tagged a style as such just yet, I think it's an ever evolving process particularly whilst I feel like I'm still finding my feet. Carmen did say recently however I have a definite trend towards earthy tones, so who knows what is to come?

A quirky fact about me… I am the team practical joker, often having the other Bells (especially Timika) believing random facts.

I honestly don't have favourites in any aspect of my life, it totally depends on my mood and I am THE MOST indecisive person to exist....but natives are hard to beat because they are uniquely beautiful, strong, have amazing variety, scent and their longevity from fresh to dried.

If I was to design for a famous person, my first thought is, David Attenborough and it would be an arctic ice king protea as the star of a wooden base tall back arrangement with steely blue banksia, flannel flower, green luc's and minimal greenery.
The Elusive Dawn

Unfortunately, we cannot show Dawns face… because she's a dentist.

Truth be told, Dawn is not a Dentist, she is the backbone of the upkeep to our beautiful Shop!

Dawn is the Keeper of living plants in store, always making sure they are healthy and ready for their new loving homes!

Aunty Dawn is the glue keeping the team together, hydrating us with copious amounts of Tea and Bikies when the scissors are clickity and clacking!

If you are lucky enough to spot our Elusive Dawn in store on Thursday's, make sure to appreciate all the outstanding work and effort she makes to ensuring Bella is always looking Beautiful and Healthy.